Eliminate Stress, Anxiety and Depression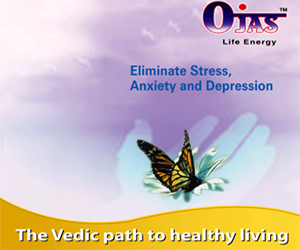 The mind is the architect of a human personality. In a world full of stress, the human mind is both directed as well as powered by stress. When the senses lose their energy, the mind gets exhausted and this allows depression to set in. Unattended stress leads to anxiety and sustained high anxiety leads to depression. This affects the mind, which over a period of time transcends to the entire body.

How to relieve stress and anxiety? The Vedas, by means of chants and mantras, offer a variety of solutions to overcome stress, anxiety and depression symptoms by directly putting the senses in touch with the source of energy. The mantras seep deep into the human mind and remove all stress, anxiety and depression and fill it with the right energy. This in turn brings clarity of thought and increases self- confidence and self worth.

Anxiety attacks lead to depression. Anxiety attacks and depression can be managed easily by regularly listening to Vedic mantras which calms your mind.
The Vedic chants from Ojas Foundation guides you on how to manage anxiety and lead a stress free life.

Treat anxiety naturally by changing your lifestyle habits. You can completely eliminate stress related illness through stress reducers like relaxation techniques in the form of yoga, meditation and deep breathing.

Benefits of the Mantras
• Gives strength & stability to the mind to handle conflicts
• Fills the mind with light and brings in a ray of hope
• Helps in dealing with unexpressed emotions by opening the channels of communication
• Helps in stress management by bringing about creative will, abundant wisdom and right action.
• Eliminates the root cause of Stress, Anxiety & Depression

The Compilation contains mantras from different parts of Vedas coded in 10 tracks

BUY NOW