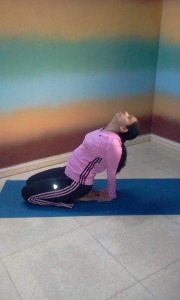 Contraindication:
Pain in joints (knees, ankles, wrist)
Expectant mothers.
Technique:
Sit in vajrasana. Take your palms on the floor behind your back. Fingers  toward toes.
Torso tilting backwards. Relax head and neck. Rhythmic breathing
Benefits:
Relieves gastric troubles.
Improves functions of digestive, excretory organs
Tone and elasticity of anterior muscles enhanced.