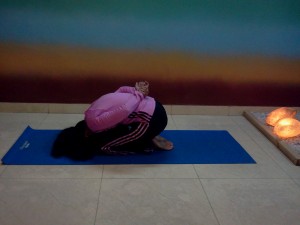 Contraindication
Severe backache, neck ache, stomachache, knee pain or abdominal disorders
Technique
Sit in vajrasana. Hold both palms at your lower back. Lifting the chin slightly, start bending from your waist so to release forehead on the floor or relax the head wherever it is convenient.
Benefits
Helps to regain elasticity of the muscles after child birth. Constipation gets reduced. Large intestine gets the most of the benefit. Helps to cure lumbosacral pain.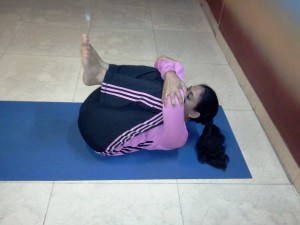 Contraindication:
BP, Pain in the abdomen, upper back and neck pain.
Technique:
Lie on your back. Fold both legs at knee and bring it close to chest encircle the arms around the knee. If possible lift the head to bring chin to the knees. Rhythmic breathing. Aswini mudra can be done in two steps: First step, contract the anal muscles and relax for 5 counts. Second step, hold the anal muscles for 5 counts and then relax.
Benefits:
Relieves gastric troubles.
Improves digestive and excretory functions.
Improves functioning of anal sphinters.