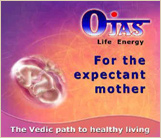 Pregnancy is an enchanting time for expectant mothers. The evolving experience creates a circle of love between the parents and the unborn child. A woman not only achieves a great sense of fulfillment, but also experiences great emotional upheavals triggered by the mind, which consequently at times could have an adverse impact on the child in the womb.
You, as new parent will find that listening to soothing Vedic chanting sounds infuse positive energy thus helping both the expectant mother and the unborn to have a conducive environment. This in turn constructively contributes to the child's subsequent emotional, intellectual and spiritual growth. Enjoy the journey and embrace being pregnant.
For expecting mothers, Ojas Foundation also offers a unique program, "Janani" with a philosophy of "giving birth to the mother".
Janani is a wonderful "Holistic program" says Rajshri and Vikas, first time parents. For more expectant mother quotes visit our Pregnancy Care Class pages.
Benefits of Mantras :
| | |
| --- | --- |
| | Impacts mother's emotions in a positive way |
| | Establishes strong channels of communication between mother and the baby. |
| | Brings harmony and peace in mother's mind. |
| | Enables the new mother to bond with the baby in the womb. |
| | Impacts the emotional, intellectual & spiritual growth of the baby in the womb. |
The Compilation contains mantras from different parts of Vedas coded in 9 tracks